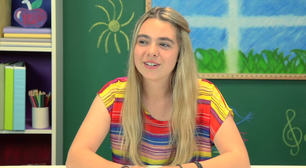 Elle loves One Direction and is always happy and perky.
She first appeared in "Kids React to Viral Videos #5 (Charlie Bit My Finger, Golden Voice Homeless Man, Double Dream Hands." (February 6, 2011) and was 9 years old and is the third most featured reactor appearing in 70+ episodes.
Elle has graduated to Teens React as of January 2016.