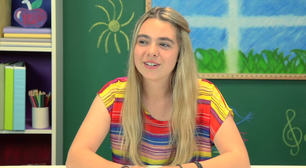 Elle loves One Direction and is always happy and perky.
She first appeared in "Kids React to Viral Videos #5 (Charlie Bit My Finger, Golden Voice Homeless Man, Double Dream Hands." (February 6, 2011) and was 9 years old and is the third most featured reactor appearing in 70+ episodes.
Elle has graduated to Teens React as of January 2016.
Ad blocker interference detected!
Wikia is a free-to-use site that makes money from advertising. We have a modified experience for viewers using ad blockers

Wikia is not accessible if you've made further modifications. Remove the custom ad blocker rule(s) and the page will load as expected.