Kids React to Going to the Store!
Edit
Kids React to VIRAL VIDEOS! This Episode.... GOING TO THE STORE!
How the Video Starts
Edit
The video come on, nothing happen yet, but music came on, but when the "man" came on, Lucus said "what?" Paris got suprised, so did Krischelle. Dylan said "what?!" Troy said "WHOA!" Then Darius got confused, because he didn't who what's happening! Morgan A. said "That's Nasty." Royle was laughing. Dash started moving his arms liket he "man" in the video. Sydney got really confused. Dylan was SPEECHLESS! Megan said "This is far, one of the weirdest things you've ever shown us." while her twin sister Shannon was dancing along with the video. In the video, when the "man" fell on the stairs, Lucas said, "OH MY GOD!" Then Morgan A. covered her eyes. Then Paris said, "WHAT THE HECK IS HE DOING?!" Dylan got tongue-tied. Then Emma R. said, "I am NOT impressed. I am too NOT IMPRESSED." Then Question Time begins. 
WATCH THE VIDEO! 
Edit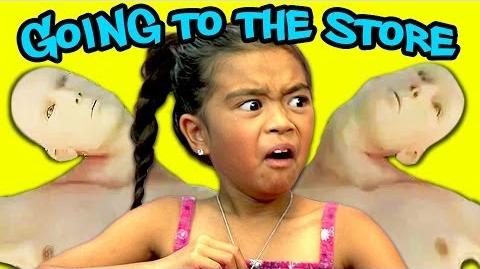 Ad blocker interference detected!
Wikia is a free-to-use site that makes money from advertising. We have a modified experience for viewers using ad blockers

Wikia is not accessible if you've made further modifications. Remove the custom ad blocker rule(s) and the page will load as expected.