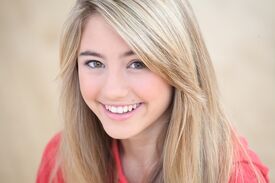 Lia Marie Johnson was on the famous YouTube series, "Kids React" From 2010 to 2011. She then left because she graduated to Teens React at age 14. But now today, she is on the series Youtubers React, due to her having her successful channel (LiaMarieJohnson). Also known for being in Nickelodeon TV series and movies.
Along with Dylan and Morgan, she one of the current reactors who made her debut on the first react video of the franchise, "Kids React to Viral Videos #1." Of the three, she is the last to appear, and eight overall.

She is the older sister of Emma and Sammie.
External links
Edit
Ad blocker interference detected!
Wikia is a free-to-use site that makes money from advertising. We have a modified experience for viewers using ad blockers

Wikia is not accessible if you've made further modifications. Remove the custom ad blocker rule(s) and the page will load as expected.