Morgan Bertsch was one of the first kids on the show Kids React. She has been on the show since 2010. She has appeared in 118 episodes, the most out of any reactor in Kids React.
Morgan is one of the three current reactors, alongside Dylan and Lia, to have been on the show since "Kids React to Viral Videos #1" the first episode of the franchise. She the second one of the three to appear, right after Dylan, and the third overall. She also has the longest run on the show since the other two have graduated on to teens/adults react.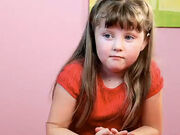 Her Birthday is on October 27.  
"No this is a person." " I want to see cats."  = From Kids React to Chocolate Rain.  
"She's adorable!"  "And she's dancing in the sky!" = From Kids React to Nyan Cat
"At least put some pants on DUDE!" = From Kids React to Harlem Shake.
"I love it!" = From Kids React to Rebecca Black - Friday
External links
Edit
Ad blocker interference detected!
Wikia is a free-to-use site that makes money from advertising. We have a modified experience for viewers using ad blockers

Wikia is not accessible if you've made further modifications. Remove the custom ad blocker rule(s) and the page will load as expected.